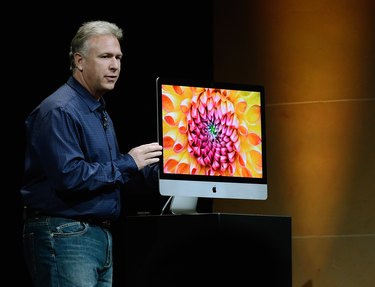 The HDMI, or high-definition multimedia interface, is a method of transferring digital audio and video information from one device to another without the need for compression and quality loss. First available in 2003, this interface has become common in televisions, DVD players, audio/video receivers and some computer monitors. While some Apple devices, such as the Mac Mini, support HDMI, the iMac lacks native support for this type of interface.
Uses
HDMI input ports are normally used to transmit information from an HDMI output device such as a DVD player, Blu-Ray player, digital television box or video game console, to a television or other display device. A single HDMI cable can carry the same information as several analog cables, including both audio and video information, without the concerns about data loss often associated with other formats. This single-cable arrangement improves picture and sound quality while simplifying the setup process.
Apple iMac Ports
Because the Apple iMac integrates the computer and monitor into one device, it does not offer conventional video input ports such as DVI or HDMI. The 2012 iMac offers four USB 3.0 ports, two Thunderbolt ports, a single SDXC card slot, standard Ethernet and headphone ports and a single proprietary Mini DisplayPort for connecting an external monitor. This port can also be used for input with other devices.
Input via DisplayPort
You can transfer information from your HDMI device's output port to your Apple iMac using a non-native DisplayPort converter capable of translating the signal so that the iMac can understand it. These devices can match your iMac's native resolution, reducing the risk of distortion and other problems. You cannot, however, use Apple's standard DisplayPort adapters, because they will bridge HDMI devices into the iMac. According to Apple Insider, the video input feature works only with devices natively designed for DisplayPort. Devices that have a VGA, DVI or HDMI output will not produce a readable signal, even if you use an adapter.
Considerations
If you want to use your Apple iMac to watch television programs and movies, you may be able to get the same functionality using a high speed Internet connection instead of an HDMI device. As of 2012, several providers offer standard and high-definition television content online that can replace satellite or cable television for many people. Some services are free, but most high-definition programming requires a paid subscription.