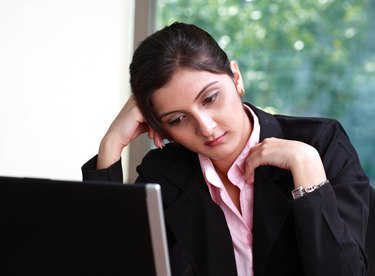 The Mozilla support documents dedicate a whole page to troubleshooting issues with downloading files, so rest assured -- the problem isn't yours alone. Before you get started with troubleshooting Firefox, download the most recent version of the browser. Also check that your network connection is on and steady, as your download may be timing out due to connection or bandwidth issues.
Remove Plugins and Add-ons
If you have any add-ons that modify the default download behavior in Firefox, remove them using the add-ons menu and restart Firefox. You should also remove any download management programs installed in Windows. Mozilla names five such programs: GetRight, WinGet, Download Accelerator Plus, FreshDownload and Net Transport. Make sure you also remove the program's associated DLL files. You should also consider disabling plugins like Java and Flash from the "Add-Ons" settings page.
Change Download Settings
The first step Mozilla recommends is to clear your download history. Also, if you have a partially downloaded copy of the file already in your downloads folder, delete it before restarting the download. If this doesn't fix the problem, change the directory for your downloads; the problem may be with the folder itself. If none of that fixes your ability to download large files, Mozilla recommends opening the "about:config" options from the Location bar and resetting the downloads folder. Search for "browser.download." Right-click each setting that comes up and select "Reset."
Change Security Settings
By default, Firefox calls your anti-virus program to check downloaded files. If you continue to have trouble with your download, Mozilla recommends disabling this feature by going to the "about:config" settings page and searching for "browser.download.manager.scanWhenDone." Double-click it and set the value to "false." If you have a firewall enabled, make sure that Firefox is set as an exception. You may also want to check that any running anti-virus or anti-malware software isn't interfering Firefox's ability to communicate with the Internet.
Reset Firefox
If nothing else works, Firefox recommends doing a full reset. This creates a new profile folder for you and wipes out your extensions, themes, open tabs and site preferences. It does not delete your bookmarks, browsing history, passwords, cookies or form information. To reset Firefox, go into the "Help" menu and select "Troubleshooting Information." Then click the button that says "Reset Firefox."
Alternatives
If you're having trouble with all large downloads in any browser, and no amount of troubleshooting or resetting fixes the problem, you may want to consider an alternative method of downloading. While torrent files have gotten a bad reputation due to piracy, many websites offer legitimate torrents for downloading large files, such as the ISO files used to distribute Linux operating systems or boot-time utilities such as DBAN and GParted. If the website offers alternative download links for the same file, also called download mirrors, try using one of the alternatives. Sometimes persistent problems with a download have more to do with the server storing the file than your computer or browser.