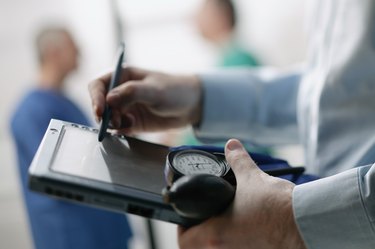 For nurses to provide the highest possible level of patient care, it's imperative they have the time and resources needed to maximize their efficiency. The more energy they can devote to their patients, the more they can contribute to their recovery. Hospitals can often boost productivity by establishing facility-wide protocols that support both nurses and patients.
Delegating Assignments
Assigning tasks more efficiently can increase the amount of time nurses can devote to direct patient care, while allowing nurses to focus on the type of task at which they excel. For example, hospitals can assign patient follow-up to nurses seeking part-time roles or a decreased workload, instead of to full-time nurses whose time is better spent at patient bedsides. Or hospitals can assign the most complex cases to nurse specialists, giving staff nurses more time for making patient rounds and addressing questions or concerns from patients and their families.
Technology
Incorporating mobile computing and other technology can reduce the time spent on paperwork, which is why a growing number of facilities are turning to electronic patient records and handheld devices. For example, a nurse can double-check the medications prescribed to a patient or update his progress right from his room instead of waiting until she returns to the nurses' station. Some hospitals now use text messaging and applications developed for smartphones, eliminating the need for bulky or expensive equipment and making the technology more accessible to nurses.
Streamlining Processes
By reviewing and adapting the way nurses perform their work, health care facilities can reduce much of the legwork associated with their jobs. This can reduce errors, improve patient outcomes and satisfaction, and allow nurses to dedicate more of their time to direct care. Something as simple as keeping patient rooms well-stocked with supplies can allow nurses to provide care more quickly. Updating charts immediately after evaluating patients or updating fellow nurses during shift change improves accuracy, saves time and enhances communication between nurses and between nurse and patient.
Stress Management
Even when nurses enjoy their jobs, the long hours and day-to-day strain of caring for critically ill patients can take an emotional toll and cause burnout. The burden this creates hinders a nurse's ability to make decisions, focus on her work and collaborate with fellow nurses. Helping nurses manage their stress can contribute to increased concentration, attentiveness and problem-solving abilities. For example, providing ongoing training to nurses can make them feel more confident in their skills. Encouraging managers to offer support can give nurses the emotional foundation they need to contribute their best efforts even in challenging circumstances.