Microsoft Outlook's Calendar feature allows you to create your own personal schedules, which is useful for organizing your day-to-day tasks or long-term plans. But you can also use Outlook's sharing ability to create a task and share it with others. This can be helpful in work situations where you want to collaborate on tasks among a team. In order to create group tasks, everyone must be part of a Microsoft Exchange Server. The Microsoft Exchange Server is a collaborative communication server that is used in organizations and businesses. You can create group tasks and view them in Microsoft Outlook.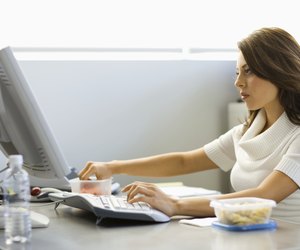 credit: Siri Stafford/Digital Vision/Getty Images
Step
Open your Microsoft Outlook account.
Step
Click the "File" menu, select "New" and choose "Task."
Step
Click the "Task" tab in the "Actions" group. Customize your task as needed. For example, you can set the start date and due date, make the task recurring and set its frequency, add reminder alerts and track your progress on the task. When you are done customizing, click "Save and Close."
Step
Select "Tasks" in the "Navigation Pane." Select "Share My Tasks Folder." This allows you to share your default tasks folder with other people.
Step
Enter the names of the recipients, which will include everyone involved in the group task you are creating. Enter these in the "To" text box.
Step
Change the "Subject" line of the group task if you want to. In the message body area, type any additional information you want the group to know about the tasks.
Step
Click "Send" and review the message to confirm it. Click "OK."