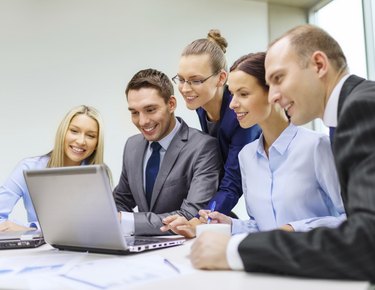 Google provides a feature called Groups that enables project teams, clubs and classes -- or people within any other group -- to communicate and share content, such as documents, videos and calendars. One way to use a group is to set it up as a collaborative inbox. Your team can use this account to read and reply to messages posted by group members or even customers. Using Groups for Business, you can include an unlimited number of members and assign responsibilities to individuals.
Step 1
Go to the Google Groups website (see Resources) and click "Create Group." Enter a name for the group and type in the email address you want to use, which will end in "@googlegroups.com." Enter a description of the group for members to view.
Step 2
Select "Collaborative Inbox" from the Select a Group Type drop-down list. Choose the types of members you want to authorize to access inbox features. Pick the basic permissions you want to apply, such as allowing the public to view topics or allowing all group members to post messages. Click "Create," then "OK" to manage the inbox settings.
Step 3
Click the "Manage" link at the bottom of the Topics page. Click "Invite Members" in the left pane to open an email invitation form. Enter the email addresses of the people you want to permit to use the inbox, type an invitation message and click "Send Invites."
Step 4
Select "Roles" in the left pane and click "Roles." Choose the role for which you want to manage settings. Add members to the role and select the permissions you want to apply. Repeat for the remaining roles. Depending on the roles you assign, members receive notifications via their primary email address when anyone posts a new message.