Microsoft SharePoint Server is a collection of server tools used to facilitate collaboration. While it was originally used to share documents on a server, it has evolved into a complex virtual workspace. Users who are set up on SharePoint can share files with each other. Even people from different companies can work together. Unfortunately, SharePoint doesn't automatically set up a suggestion box. If you want to add this feature, you can create a suggestion box using the discussion board feature.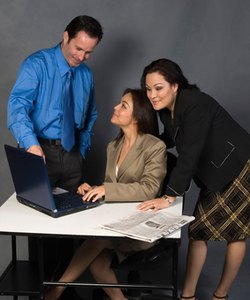 Step
Go to the "Site Actions" menu in SharePoint and click "Create."
Step
Click on "Discussion Board" under the "Communications" label.
Step
Enter the name of the suggestion box at the pop-up screen, along with any description you want to give it. For instance, you can name it "Suggestion Box," and then you can use the description box to specify how to give those suggestions. Be sure the box next to "Navigation" is clicked "Yes." Click "Create" once you are finished.
Step
Select "Discussion Board Settings" on the page labeled "Discussion Board." Click on "Advanced Settings."
Step
Choose the "Read and Edit" preferences. For instance, "All items" will make the box viewable to everyone. Anyone can view posts made by other people and can edit those posts. If you want people to only be able to view and edit their own suggestions, select "Only their own" in both the "Read Access" and "Edit Access" boxes. Click "OK" once you are finished.
Step
Go back to the "Discussion Board" page and remove the "Modified by" and "Created by" columns. This will keep all posts anonymous, even to the administrators. If you do not want to keep posts anonymous, skip this step.