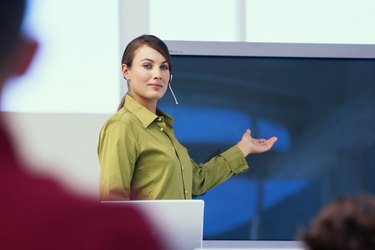 Microsoft PowerPoint is a useful tool for creating presentations you can use in your business meetings. In addition to its basic functionality, the software also allows you to add notes to each slide; this can help you remember additional talking points and keep you on track when giving your presentation. To avoid looking unprofessional, however, you want to make sure the notes are hidden from your audience while remaining visible to you. You can do this by using the Presenter View feature.
Step 1
Connect your computer to the second monitor or projector screen on which you will be giving your presentation.
Step 2
Launch PowerPoint and open your presentation.
Step 3
Click the "Slide Show" tab and select the "Use Presenter View" check box in the Monitors group. This opens the Display Settings configuration window from the Windows Control Panel.
Step 4
Click the "Monitor" tab in the Display Settings configuration window.
Step 5
Click the monitor icon corresponding to the monitor where you want your notes to display and select the check box labeled "This Is My Main Monitor." If the check box is already selected, proceed to the next step.
Step 6
Click the second monitor icon. This icon corresponds to the monitor or screen on which your audience will be watching your presentation. Select the check box labeled "Extend My Windows Desktop onto This Monitor" and click "OK." This adds the monitor or screen to the Show On list found in the Monitors group on the Slide Show tab.
Step 7
Click the "View" tab and click "Slide Show" in the Presentation Views group to begin your presentation.