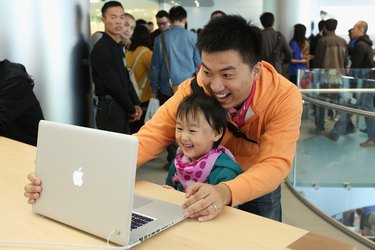 The iSight camera built into your MacBook Pro isn't just for corporate videoconferencing. Use it to take still employee photos for company badges or for any other pictures where a built-in webcam photo will suffice. The MacBook Pro comes with Photo Booth, a photo-capture program that's automatically configured for your iSight camera. Take a single snapshot or a "4-up" -- four photos in quick succession -- right from your MacBook Pro.
Step 1
Launch Photo Booth. The green light next to the camera turns on and you'll see yourself in the Photo Booth window. Photo Booth automatically opens in full screen. To exit this view, place your cursor at the top of the screen until the Photo Booth menu appears. Click "View" followed by "Exit full screen."
Step 2
Orient yourself within the Photo Booth window. If you're taking a photo of someone else, have that person sit in the camera's viewing area. The camera captures whatever appears in the Photo Booth window.
Step 3
Click the round red button with the camera icon on it to take a photo. You'll see the numbers 3, 2, 1 appear on the screen as a countdown, and the screen goes white as Photo Booth captures the image. The photo moves down to the thumbnail drawer at the bottom of the screen.
Step 4
Click on the thumbnail image you just took. Click the action icon and select "Email" to email the photo to yourself or someone else or select "Add to iPhoto." After it's saved to iPhoto you can open and manipulate it in any image-editing program. You can also click "Set Account Picture" or "Set Buddy Picture" to set this photo as your Mac user picture or instant messaging picture, respectively. To delete the photo, click the "X" in the upper left corner of the thumbnail.
Step 5
Click the button with the camera icon to reset Photo Booth and take another photo. Close Photo Booth to turn off the camera when you're finished.