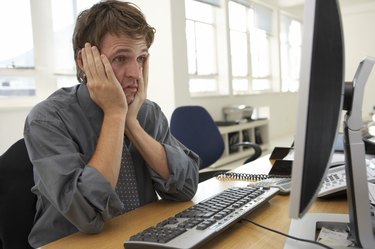 Google Chrome may be unable to open for several reasons, including a malware infection or conflicting software installed on your computer. Although firewall and antivirus software helps protect your computer, you may have set these programs to block certain types of Internet connections, including Google Chrome. You may also have a corrupted Google profile or protected system files preventing Google Chrome from opening. Google Chrome crashes may also be caused by lack of computer memory.
Antivirus Software
Firewall settings and antivirus software may be set to prevent your computer from taking certain actions online. You may have Google Chrome set to deny all Internet connections, making it impossible for your browser to open. Turn off all firewall and antivirus settings or software and reopen Google Chrome. If Google Chrome works, add the program to your firewall or antivirus's list of exceptions.
Malware and Conflicting Software
Google Chrome provides an easy way to check for conflicting software on your computer. Type "about: conflicts" into the address bar near the top of the Google Chrome window. The resulting page will highlight known programs or software that causes Google Chrome to crash. Malware is included in this list. Google Chrome also provides actions you can take to fix the problem. Also, if you have Internet Download Manager installed - a third-party add-on - Google Chrome recommends updating to the latest version or disabling its "Advanced browser integration." Be sure to run malware checks on your computer with an antivirus or malware protection program.
Corrupt User Profile
Google reports that if Google Chrome does not open or stay open, and no error message appears, that you may have a broken browser user profile. You must create a new one in order for Google Chrome to work properly. Exit Google Chrome and open a new Windows Explorer window. Type "%LOCALAPPDATA%\Google\Chrome\User Data" into the Window Explorer address bar. Browse the open directory window for a folder called "Default." Right-click its icon and rename the file to "Backup default." Reopen Google Chrome and a new "Default" folder will be created automatically.
Protected System Files
Google recommends checking for problems with protected system files on your computer. Protected system files are critical files used by your computer's maintenance system and operating system. They are protected by Windows to avoid renaming or replacing them and damaging your system. Check for issues with your protected system files by swiping in from the right side of your main computer screen and clicking "Search." Type "SFC.EXE /SCANNOW" into the search menu, making sure there is a space between ".EXE" and "/SCANNOW." Double-click "SFC.EXE /SCANNOW" and wait for the Microsoft utility to scan and repair any problems.
Memory
Your computer's operating system uses its memory to run programs. If you have several programs or processes running at once when launching Google Chrome, your computer may become overloaded and shut down. Press "Ctrl + Alt + Del" on your keyboard to view all open programs or processes on your computer. After closing all programs, restart your computer and start Google Chrome by itself to check if the problem persists.