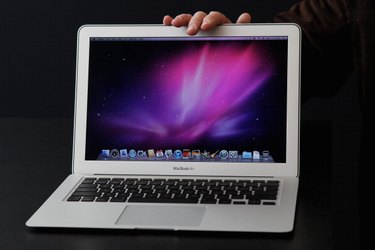 The essential difference between Macintosh and Dell computers is that they are designed to run different operating systems. While there is a host of software available on both systems, some programs are only compatible with one system or the other. Beyond this, the hardware is different both in terms of functionality, materials and aesthetics. These factors lead to price differences, with Macs being generally more expensive than their Dell counterparts.
Operating Systems
Macs come with the current Apple operating system (Mac OS) preinstalled, while Dells come with an edition of the latest version of Microsoft Windows. With the two companies making constant updates, operating systems are notorious for fluctuating in terms of cost and the amount of RAM and hard drive space they require. As of 2011, the latest Apple and Windows offerings require the same amount of RAM. However, Apple's OS is less expensive and takes up less hard drive space. Another key difference is that Dell computers can run either a 32- or a 64-bit version of Windows. Macs only use 64-bit systems. Owners of Apple computers can purchase software that lets them run Windows as well as Mac OS, but Dell users cannot install Mac OS on their systems.
Software
Despite the fact that software companies often create two versions of their products — one for Macs and the other for PC computers such as Dells — there remain certain programs that can only run on one system or the other. One example is video editing software. At the time of purchase, buyers can choose to have Apple preinstall Final Cut video editing software on their Mac. This product cannot be used on Dell computers. Dell buyers can, however, choose Adobe Premiere, a program that comes in both PC and Mac versions. Dell buyers must also select anti-virus software at the time of purchase. Because of the limited threat of virus attacks on Apple computers, Mac users do not require this option.
Hardware
One of the most stark differences between the two brands is that many Macintosh computers have metal chassis, whereas Dell's are primarily plastic. Dell offers more processor options, making computers with Intel and AMD processors as opposed to Apple, which only uses Intel. Mac laptops are unique in that they offer a breakaway power cable, concentrate all connection ports on one side of the computer, and have up to 10 hours of battery life, some of the most of any portable computer. Unlike Dell, Mac does not offer any netbooks. Netbooks are lighter and more compact that normal laptops. Dell also offers tablet PCs, which feature a swiveling display.
Price
As of 2011, Mac desktops start at around $700 while Dell's basic desktops start in the area of $400. Dell's desktop offerings around $700 have a slight performance edge over comparable Macs in terms of processor power. Consider that the basic Mac Mini contains a 2.4-GHz Core 2 Duo processor while the Dell OptiPlex 580 offers a 2.8-GHz AMD Athlon processor.