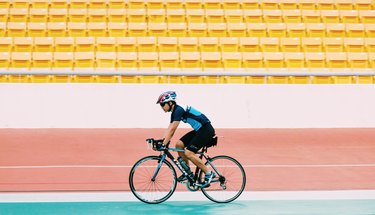 Spring is here and that means it's time to get outside. Whether you're the type of family that goes on bike tours together or pursues cycling as a serious fitness or athletic training activity, here's a trio of apps that can come in handy for these various cycling scenarios, all available on both Android and iOS.
Road ID
Road ID can be a very helpful app to get if you want to keep track of everyone during a family bike outing, or if one of your kids is just starting to take spins on his own around town.
Using a feature called eCrumb, kids can send a link by email or IM to selected contacts about where they are located, displayable in real time on a map. Kids can also include info about they're doing (in this case cycling) and when they expect to get home. (The app works the same way if family members are out walking, running, or skiing, for example.)
eCrumb can be useful, too, if you just want to meet up with a friend somewhere when you're traveling from different directions.
For safety reasons, the app also includes a "stationary alert" feature that notifies contacts if you haven't moved from your location for five minutes. In addition, your last known location remains on the map.
The app runs on both Android and iOS. However, you don't need a smartphone or tablet in hand to track friends and family. Merely use a browser on a PC or any other device.
MapMyRide
If you want to take a bicycle tour vacation, you can always hire a travel agency for help. On the other hand, a DIY approach can be much less costly and certainly more customizable.
For taking the family out through new terrain, the MapMyRide app makes it easy to find so-called "public routes" which have already been tested out by other community members.
This is a great fitness and training app, too. In fact, it's mainly about mapping every ride a user takes and then delivering audio feedback and statistics to help improve performance. As users discover new routes, they can save their favorites and share the routes with others.
For each of your workouts, you can see information such as distance, duration, pace, elevation, and calories burned. You can also sync performance data with devices such as Fitbit, Garmin, and many more. By connecting to the MyFitessPal app, you can take a detailed look at your calorie intake and burn.
Strava
Strava is another app geared mostly to tracking performance along routes for purposes of fitness and training. If you simply want to find some routes for your family to follow during a fun bike expedition, that's a possibility, too, but there's no search engine available to ease this process.
Also in contrast to Map My Ride, however, Strava lets you obtain turn-by-turn navigation for a route, although you'll need to export data to a compatible GPS device to make this work.
If you have serious cyclists in the family, they'll probably enjoy the app's competitive and social aspects. Users can display their performance on a leaderboard and see how their results compare with those of others who have traveled the same road.
Users can also join clubs, follow and encourage friends, and share photos from their adventures with other community members.