Just like your kids (and you, come to think of it), dogs love their playtime. Of course, they don't get to pick and choose their playdates. That's your job. Why not find a spot that's worthy of man's best friend?
Dog parks are popping up all over the country. These are designated, fenced parkland where dogs are welcome, can run off-leash, pee freely, and interact with other four-legged friends.
If you are lucky enough to live in the Redmond, Washington area, for example, there's no better day trip for you and your doggie than Marymoor Park, with its 40 amazing acres of off-lease green spaces and multiple access points to the gentle Sammamish River, where many a pooch takes a dip in the water.
Not sure where to find such a magical place near your own neighborhood? We can't promise anything quite so amazing as what this Seattle suburb has to offer, but here are four apps that can help you find the best dog parks in your area.
1. Dog Park Finder Plus
Powered by DogGoes, this iOS app features over 6,600 dog parks, beaches, and pet-friendly hikes. Users can search Dog Park Finder Plus using current location, nearby cities, or by typing in specific zip codes. Scan the results for spots with fees and leash rules, as well as perks like fenced-in areas, spots for small dogs, benches, bathrooms, and more.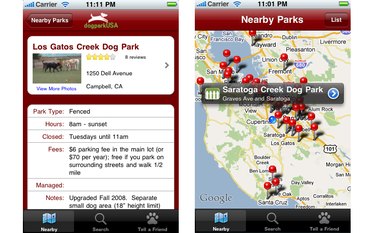 It also lists user ratings, reviews, and even tons of user-submitted photos. The latest version of the app even includes dog-friendly rest stops and restaurants. The company is constantly updating the app, adding new parks as they pop up, with plans to include hotels and other pet-friendly businesses at some point. Downside: it's not free. You'll need to pay $2 to install this app on your iPhone.
2. BarkHappy
The only app on our list that's available for both Android and iOS devices, BarkHappy can connect you to dog-friendly places and people in your community. It features over 20,000 dog parks, restaurants, hotels, and other places, as well as amenities, ratings, and other info.
Users also have the option to create a profile for their pup, with the dog's age, breed, personality traits, and even a link to Instagram. This allows you to browse nearby users, send "wags" to other dogs, schedule playdates, and more. Other features include lost dog alerts, a listing of dog-friendly events, and the option to create your own get-together. And it's free.
3. Dog Park Assistant
This iOS app doesn't have a dog park map, listings, or even reviews. Instead, Dog Park Assistant provides tips on the best ways to find a healthy and safe dog park for your dog. It also helps to identify different doggie behaviors, so you can avoid a potentially dangerous situation while at the park.
Another handy feature is the ability to create a profile, so you can get personalized training tips that can be used while you're at the park. And if you're worried about how your dog is reacting, you can capture a video and send it into the app's creators for a personalized analysis. It costs $1.
4. Paw Parks
Last--but not least--this free iOS app features plenty of parks and pet-friendly hiking trails. Unlike the others on our list, Paw Parks does rely on users to update and add a lot of the content. Each entry includes a park description, photos, reviews, and options to check in.
It also has an extensive list of amenities, so you can keep an eye out for places with fenced-in areas, agility spots, horse friends, and pet drinking facilities. There's even an option to keep notes on your dog's experience within the app.