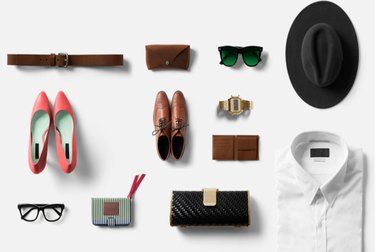 Personal shoppers aren't just for super rich people anymore. Sure, you have to be willing to spend some money to have brand new personalized outfits sent to your home without lifting a finger, but it's a totally attainable luxury thanks to some really cool apps.
If you love getting new clothes and accessories, but don't have the time or desire to go shopping in real life, check out these apps that assign someone do the hard work for you.
Trunk Club
When you sign up for Trunk Club, a real life stylist contacts you to discuss your style requirements. Based on your conversation, the stylist then picks out entire outfits for you, including clothes, shoes, and accessories. They choose from luxury brands like Theory, Eton, rag & bone, Paige, Joie, Vince, and more.
Your membership comes with free shipping, and you have five days to try things on and return anything you don't want. The app allows you to message with your stylist to discuss your look, and it even allows you to send pictures for inspiration. The cost depends on what you decide to keep, but the average cost per trunk is anywhere from $200 to $700.
Stitch Fix
With Stitch Fix, first you'll fill out a style profile and receive five hand-selected pieces of clothing sent to your home. You can then buy what you like and send the rest back. There's no subscription required.
The stylists work with both men and women, and the average cost per item is around $55. You can look great and save time, and since shipping is free both ways, there's no cost to try it out.
Mona
Mona is an artificial intelligence powered mobile shopping assistant that gives you the type of expert assistance you'd find in a store. As you shop with Mona, she asks you questions and analyzes your feedback to give you her best recommendations in real-time.
Over time, Mona learns your style and is better equipped to find exactly what you're looking for. And she's able to search over 300 stores and brands to find you the best price.
PS Dept
PS Dept is the first on-demand personal shopping department and luxury fashion concierge service. They source worldwide trends to find you exactly what you're looking for. You can either shop from their real-time feed or get in touch with your personal stylist.
If you want to buy a trendy bag that has been sold out everywhere, PS Dept will search high and low until they find it for you. Now that's service.