Buzz. "What?" Buzz, buzz. "Argh. Why?" Buzz, buzz, buzz. "OMG, please make it stop." This is the sound of your phone blowing up with an unwanted group text thread. Whether it's movie spoilers, office drama or messages from the Little League group your kid outgrew two years ago, it's like your phone's having a party that you don't want to attend. Bad news: Your phone has no manners, and the dreaded group text can occur anywhere, any time, from while you're binging your favorite show in your undies to an otherwise awesome first date. Good news: Whether you use an iOS or Android mobile device, your "argh" is just a few taps away from turning into an "aah."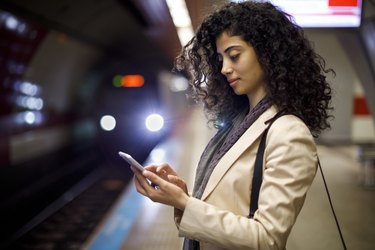 How to Leave a Group Text on an iPhone
On iPhone, Messages serves as Apple's native texting app and the source of your group-texting woes. To bail on a group text in Messages, tap the circle icon with the "i" inside. You'll be presented with a list of various options that include "Add Contact" and "Share My Location."
Scroll down until you see "Leave This Conversation." Tap that, tap "Done" and wave goodbye.
This is the process for iPhones with iOS 11, which includes up-to-date iPhone 5S, 6, 6 Plus, 6S, 6S Plus, SE, 7, 7 Plus, 8, 8 Plus and iPhone X models. It works similarly on pre-iOS 11 phones with only minor differences in the names of the options you tap.
How to Silence a Group Text on Android
With Android's native messaging app, you don't have the option to leave the group text entirely, but don't worry – you're not stuck in group text purgatory. You silence notifications from the group instead. Open the group text and tap the three dots at the top of the screen to reveal an options menu. Tap "People & Options" followed by "Notifications" to bring up a whole basket of options. From here, tap "Importance" and then select "Low" to ensure that you'll receive no visual or audio notifications from this particular group text.
On Android, you can customize the alerts you get with a high-priority mode that even overrides "Do Not Disturb" settings to complete silence for each text messaging thread, including group threads.
How to Silence a Group Text on Your Samsung
Silencing a group text on your Samsung smartphone works the same way as it does on Android because your Samsung smartphone is an Android phone.
Ever since the introduction of the first Samsung Galaxy – the Galaxy S – in June 2010, Android has powered Samsung's smartphone lineup. Back then, it was Android 2.1; in 2018, it's Android 8.0 Oreo on phones like the Samsung Galaxy S9. If you have a Galaxy or a Galaxy Note, you have an Android device.
Other Android phones including the Google Pixel series, LG phones such as the V and G series, the OnePlus 5 and below, the Moto Z2 Force, the Essential Phone and the HTC U series are among the thousands of Android devices.
How to Silence Notifications on iOS
On iOS, you may run into a little snag when trying to exit a group text: Sometimes, the option to leave the conversation isn't available. Usually, this means that not everyone in the thread is using the same messaging app.
In this case, silencing the notifications from the group thread makes for a good backup plan. Tap the "i" symbol, scroll down a bit, flick on the switch next to "Hide Alerts," kick back, and enjoy the silence.