Since it began as TheFacebook in 2004, Facebook has seen dozens of design changes and feature additions, from the arrival of the News Feed in 2006 to the introduction of company and celebrity Pages in 2010 and the embrace of apps in 2012. In late 2017, Facebook polls encouraged users to express their inquisitive side on the world's biggest social media platform. Like checking in to a location or sharing photos, polls are now part of the Facebook experience and easily accessible from several areas of the platform, including individual profiles and event pages. Whether you have a burning question or an irreverent query, you have options for posting polls on Facebook.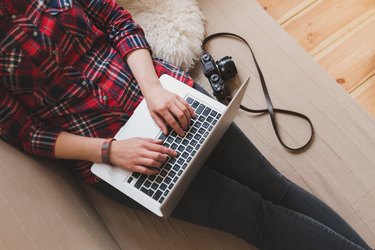 How Do You Do a Poll on Facebook?
Adding a simple poll for your friends and followers on Facebook on either the app or the desktop site works much the same way as adding a photo or updating your status. These simple polls offer a few – two, usually – voting options, sometimes with an accompanying photo or animated GIF, and they collect results over a specified period.
The polls aren't anonymous, so if you create a poll, you can see how each person votes. Likewise, anyone who votes can see everyone else's answer.
How Do You Make a Poll on Your Facebook Profile?
To get cracking on your poll, log in to Facebook and go right to the ubiquitous "What's on your mind?" box, where you usually make posts or add photos and videos. On the mobile app, tap the "What's on your mind?" box to display the options. On the website, click the "..." symbol in the status box. In either case, you'll see "Poll" on a menu that includes familiar options like "Photo/Video," "GIF" and "Check in."
After you select the "Poll" button, type your question in the dialogue box that says "Ask something..." and then fill in the voting choices labeled "Option 1" and "Option 2." You can attach a photo or GIF to each option from your phone or computer by selecting the "Attach a Photo" or "Attach a GIF" buttons on each option.
From the drop-down menu below the options, choose how long you want the poll to run. Voting can last a day, a week, a custom time frame or forever. When you're done, select "Post" to add the poll to your Timeline and your friends' News Feeds.
Can You Make a Poll in Messenger?
If you'd prefer to pose a question to a select group of friends – like "Where should we go for pizza?" or "Which movie showtime is better for everyone?" – Facebook Messenger is your ticket.
During any group conversation, tap the "Polls" icon in the compose window to get started. The process here is a little simplified compared to the profile version. You'll be presented with two options: "Date - Time" and "Other." The former lets you choose between different dates or times to compare in your poll, while the latter is more free-form, allowing you to type in a question and offer different voting choices as usual. Unlike the Timeline version, you can't modify the time frame or add photos or GIFs to the options here. Once you're done adding your choices, tap "Submit" to send the poll to your group and watch the votes roll in.
To check on the poll's progress at any time, tap the "See Poll" option in your Messenger conversation.
How Do You Make a Poll in a Facebook Event?
If you have the hang of adding polls to your Timeline, adding one to your Facebook Event is no sweat. Just head over to your Events tab and choose an event to add a poll to the page. It has to be an Event you created or one for which you're listed as a host.
On the Event's main page, head to the dialogue box under the time, date and location details. Next to options such as "Write Post" and "Add Photo/Video," you'll see "Create Poll." Type your query in the dialogue box and then click or tap that last option. Three blank fields labeled "+ Add an option" appear. Type your voting options in these blank fields. When you're happy with the choices, select "Poll Options" to tweak features such as time frame or select the "Post" button to get rolling.
As the voting unfolds, you can keep up with your poll's progress under the Event's "Discussion" tab. As invitees cast their votes, you'll see each voter's profile pic appear next to the option they chose.