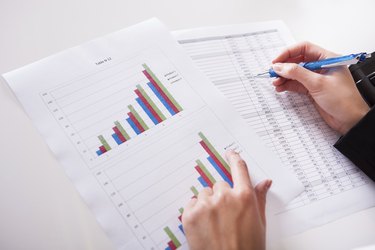 Add a title to your spreadsheet to clarify its contents and for better visual effect. To insert a title in a Microsoft Office Excel 2013 spreadsheet, add a header to the document. The header can also contain predefined information, such as page numbers, pictures and dates. Note that headers are printed when you print the spreadsheet. If you decide you don't need the header, you can remove it at any time.
Step 1
Open the spreadsheet in Microsoft Excel 2013, click the "Insert" tab and then click "Header & Footer" in the Text group to add a blank header to the top of each page of the spreadsheet.
Step 2
Click inside the left, center or right "Click to add header" box and type the title of the spreadsheet. You can display the page number or total number of pages in any of the header boxes by clicking "Page Number" or "Number of Pages" in the Header and Footer Elements group. To add the current date or time, click "Current Date" or "Current Time." You can also insert a picture in the header by clicking "Picture." If you want to display the file path or file name, click "File Path" or "File Name."
Step 3
Click anywhere in the spreadsheet, click the "View" tab and then click "Normal" in the Workbook Views group to return to normal view. To view and edit the header, use the "Page Layout" view. The header is also visible in Print Preview view.