By late 2017, Instagram's image-based social network reached a milestone of 800 million monthly active users, 500 million of which were active daily. If you were to print all the photos posted to Instagram over an average 26-day period and stack them up, that stack would reach the International Space Station. The amount of visual engagement on Instagram is staggering, but sometimes you need to connect with someone via plain old text. When you're having problems on the platform, that someone might be Instagram staff. Fortunately, Instagram offers a variety of different user-outreach options.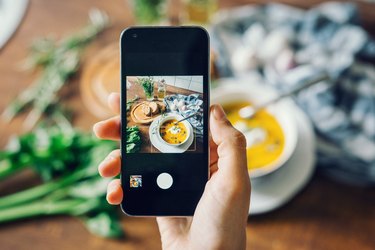 How to Contact Instagram
For most issues, Instagram encourages you to contact the site using the online submission forms available at its Help Center, found at help.instagram.com. There, you can report a wide range of problems, from hacked accounts to abuse and spam, and even the unlawful use of intellectual property.
For general user issues and inquiries, you can also contact Instagram's support team via email at support@instagram.com, though users report that this route may take multiple tries and a lengthy wait before you receive a response – if you receive a response at all. Nonetheless, this may be your most effective option for addressing issues not covered at the Help Center.
What Happens When You Report a Post?
Using the mobile app or the web version, all Instagram users have the option to report individual posts that violate the platform's community guidelines. You do this by selecting the "..." symbol next to the username on any posted photo, tapping or clicking "Report inappropriate," and then following the on-screen instructions.
While reporting an account is a straightforward process, what happens from there is less clear. While you may see concrete results from your report – like offensive content or an Instagram impersonator's account vanishing, for example – Instagram doesn't always report back to you with those results. In some cases, you may receive an automated email following your report containing a unique report number, which you can use in case you need to contact Instagram again. Likewise, Instagram staff may reach out to the email address associated with your account if they need additional information regarding your report.
What Does It Mean to Have a Spam Account on Instagram?
As is the case on other online platforms, spam comes in all flavors on Instagram. While the site's terms of service define spam under the blanket term of "harassing communications," accounts that impersonate individuals, organizations or persons of interest are also a common type of Insta-spam.
Parents should be extra vigilant of their kids' behavior on Instagram, as a 2016 report from the National Cybersecurity Alliance and Microsoft found that 60 percent of teenage internet users have created online accounts that their parents don't know about. In the case of Instagram, it's common for users to make a fake account, or "finsta," to post spam in an effort to avoid repercussion. If you discover your teen has a finsta, you can delete the account entirely via Instagram's "Delete Your Account" page at the Help Center.
Instagram is on your side here. Its terms of service specify that people can't spam others on the platform.
Can People Tell If You Report Them on Instagram?
Rather than using the "..." menu, you can use Instagram's general "Report Violations of Our Community Guidelines" form at the Help Center, which leads you through a Q & A to report questionable content. According to this page, Instagram does not share your information with anyone whose post or profile you report. Instagram guarantees the process is anonymous.
Other Considerations
While reported users don't receive information on who reported them, they may receive information about why their posts were removed, should Instagram decide to take action. This may include a summary of the particular guidelines violated, or in the case of a trademark claim, it may include the report number, the name of the trademark's owner, the email address of the reporting party, a description of the removed content, and a description of the trademark itself.
In the case of reporting people to Instagram, persistence is not a factor. Per the Help Center, the number of times you report something doesn't affect whether Instagram takes action. It all boils down to Instagram's determination of whether the content follows community guidelines.