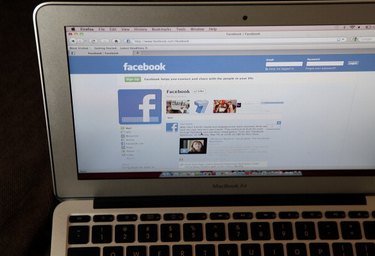 Facebook locks accounts suspected of being hacked or accessed for nefarious purposes. Facebook also locks users out of an account for too many incorrect attempts logging in with the wrong password or email address. Depending on the reason for the disabling of your account, you can access different contact forms that will help you unlock your Facebook account.
Reset Password
Step 1
Open the Facebook homepage and click "Forgot Your Password?" under the login and password text boxes if you know your Facebook username or the email you use to log in. Complete all the fields with the requested information and click "Search." Use the link "I Cannot Identify My Account" and click "Submit" to get help from Facebook to unlock your account if you don't know your email address and password.
Step 2
Enter the CAPTCHA letters and numbers to proceed to the next step and click "Identify Your Account." Click "This Is My Account" to continue with the changing of your password.
Step 3
Add check boxes next to the email addresses or mobile phone numbers to which you wish the password reset code to be sent. The full email address or phone number is not displayed for privacy. Click "Reset Code."
Step 4
Access your reset code from your email address, and enter the code provided into the "Enter Password Reset Code" page. Click "Submit Code" and enter a new password to access your account.
Compromised Account
Step 1
Open the Facebook homepage and click "Help" in the lower right-hand corner to access the form to report a compromised account.
Step 2
Click the link to the left for "Browse Help Topics" and choose the link for "Login and Password" to access the "Report Compromised Account" form.
Step 3
Scroll down and choose the link that says: "My email address or my Facebook account has been compromised." Select the appropriate scenario and follow the directions for reporting a compromised account based on if you've been phished or not. It may take awhile before you get access back to your Facebook account after it's locked.