How people watch TV and movies has evolved. Where once programs were scheduled to air at specific times throughout the day and you had to make sure you were there for the showings or had set them to record, you can increasingly watch whatever you want, whenever you want. Through streaming services like Netflix, Hulu and Amazon Prime Video, as well as online services for traditional channels, you have access to a massive range of content. However, you need a smart TV, game console or other media center to allow you to access these services on your TV, and that's where Roku comes in.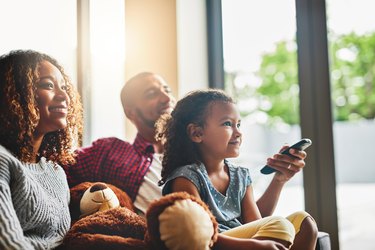 What Is Roku?
Roku is a digital media player that allows you to stream content from a wide range of sources including Netflix, Amazon Video, Hulu, HBO Now, CBS All Access and many more providers. You buy a physical device, ranging from the small sticklike Roku Express to a larger player like the Roku Ultra, and use it to access your chosen services. You may need to subscribe to some individual services, but you can access all of this programming without paying for a cable or satellite TV package, and there are also many free packages you can access.
With Roku, you can enjoy TV, movies and music on demand over the internet, and most devices plug in to your TV using an HDMI cable for high-quality streaming.
How Does Roku Work?
Roku works through a piece of hardware connected to your TV that streams movies, shows and music over the internet. You buy a Roku device, whether the Express, Express+, Streaming Stick, Streaming Stick+ or the Roku Ultra, plug it in to your TV using the HDMI cable, connect it to a power supply, and then use the wireless internet connection to get it online. The Streaming Stick and Streaming Stick+ have an HDMI jack built in, but the others come with a cable you connect directly. The Roku TV has the Roku service built-in and so doesn't require an HDMI connection.
You set up the Roku following the on-screen instructions, make an account, and connect to the internet. Then, you add apps to the device in the same way you download apps for your smartphone. For example, if you have a Netflix account you want to access through Roku, you have a Netflix app on your box or stick, and you select that app from the home screen to access your account. You do the same basic thing for the other networks or services you want to access. Download the app from the Roku Channel Store, pay for the channel if necessary, and then access it using your Roku box or stick. After you have the app, choose what you want to watch or listen to and start streaming.
Do You Have to Have Internet for Roku to Work?
Yes, you need the internet for Roku to work. The content streams over the internet, so you can't access anything without a connection. However, in addition to connecting to your home internet connection, Roku boxes and sticks can connect to hotel Wi-Fi, so you can use it when you're out of the house provided you have an available connection. Most services work well with any broadband internet connection, but if you're hoping to stream in 4K Ultra HD or 4K HDR, a high- speed connection is necessary to avoid buffering. In hotels, the maximum internet speed may be limited, which could lead to issues with playback. The Roku TV can work as an ordinary HDTV without an internet connection, but you still need a connection to use the Roku streaming service.
How Much Does It Cost to Use Roku?
The cost of using Roku varies depending on how many paid services you sign up to. In principle, after the initial cost of the device, which varies depending on the device but starts at about $30 for the Express, you can use Roku for free if you stick to the free channels by choosing "Top Free" from the "Streaming Channels" section. However, the cost of specific paid services such as Netflix, Hulu or Amazon Prime Video varies depending on the service. You may be able to get free trials for a limited period, but eventually, you have to pay for these subscription services.