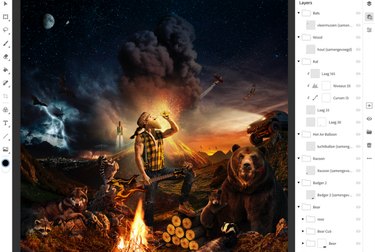 After many, many years of waiting for a full-featured version of Photoshop to be released for the iPad, it's finally happening. Adobe has announced real Photoshop for the iPad, with the promise of adding "new operating systems and form factors when they are ready," according to an Adobe blogpost.
The new Photoshop CC will allow you to use every editing tool Photoshop already offers for desktop on your iPad, save your work as a PSD, then seamlessly open the PSD file on desktop. Until now, other lightweight versions have been available, but not the full program and all of its functionality.
"This is real Photoshop on the iPad," Adobe notes. "The same underlying code and algorithms you rely on every day, with a reimagined user experience to take advantage of the uniquenesses of the device."
You can preview the program now, and it'll be available sometime in 2019.