Hey New York City cyclists: You can now use the Lyft app to easily rent a Citi Bike for your mode of transportation. And all it takes is two taps.
Back in 2018, Lyft bought Motivate, the largest bike-share operator in the U.S., which happens to own Citi Bike in New York City. Lyft began beta-testing Citi Bike in its app for some its users, and now the feature is finally available for everyone.
Here's how it works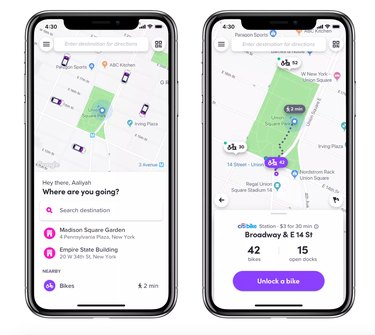 Open the Lyft app and go to request a ride. Select Bikes under the Nearby tab. The app will show you how many bikes are available at more than 750 Citi Bike stations throughout the city. You'll be able to unlock a bike (using a five-digit code) and pay for the ride all within the Lyft app.
When you return the bike back to a station, a green light will show up on the dock and you'll receive a notification letting you know your bike has successfully been returned.