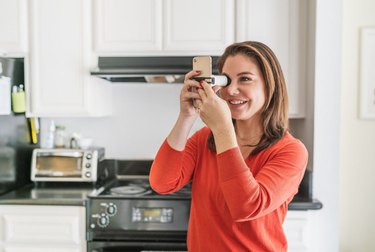 There are plenty of reasons why you might need to go to the eye doctor, but if your only reason is to check your prescription, there's an easier and less expensive way of doing it.
EyeQue VisionCheck is an at-home vision test that allows you to self-administer a refractive error test, which generates the numbers you can use to order prescription glasses online. It's registered with the FDA as a Class 1 medical device, using the same diagnostic technology optometrists and ophthalmologists use. In other words, it's legit.
A small device attaches to your smartphone and the EyeQue app offers step-by-step guidance as you administer your test. You'll always have access to your vision test results, and you can take the test any time.
Here's how it works
The price is $69.99 for the device, plus a $4.99 annual subscription fee—certainly a lot cheaper than going to the eye doctor once or twice a year. Click here to purchase.