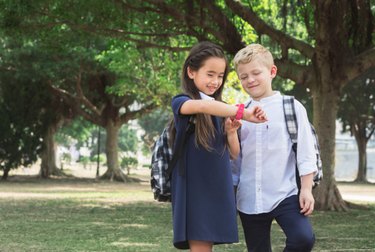 If you want to stay connected to your kids wherever they are, but you aren't ready for them to have a smartphone, there's a new smartwatch that might be perfect for your family.
Doki Technologies launched a new smartwatch for kids today called the dokiPal, and it has so many cool features.
Designed for kids ages 5 and up, the watch comes with 4G LTE connectivity, AI voice assistance, location tracking, fitness tracking, and more. Plus, kids can use it to video chat with you. So, once you download the app, you'll have access to them at all times—as long as they answer your call, of course.
You can choose to receive an alert if your child steps out of a preset zone. You can also set times for class mode during school or homework time, which disables all features of the watch, except time display and SOS.
The watch is water-resistant and the screen is made with gorilla glass, ensuring it won't break. It comes in two colors: Wave Blue and Plush Pink.
Another cool feature is the AI assistant designed with NLP speech recognition for children's voices, which provides answers to any questions that your child may ask. Don't worry though, all the answers are kid-friendly.
All contacts are set using the app, so you're in complete control of who is able to call your child and who they can call.
Buy dokiPal for $179 with an optional $9.99 a month data subscription plan.