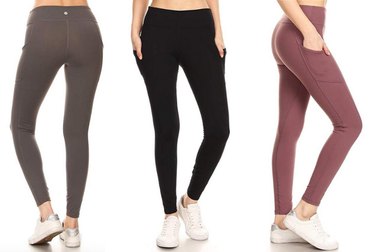 A good pair of yoga pants is expensive. Like, over a hundred dollars expensive. But considering you wear them on a daily basis (you know you do), you need the quality to be top notch. So, paying the high price is the only way.
There's a pair of leggings being sold on Amazon that people are obsessing over. The high-waisted, spandex-polyester blend pants are super soft and have over 11,000 reviews (over 8,000 of those are 5 star reviews). Plus, they're an Amazon's Choice item.
As a yoga pant connoisseur (yes, that's a real thing... kinda), I can attest to the fact that these pants are indeed worth the money.
How much money, you might be wondering? Between $10 and $13, depending on the color and size you choose. In case math isn't your thing, you can get about 10 pairs of these pants for every one pair of Lululemons.
The company, Leggings Depot, offers over 40 colors and sizes that go from small to 3X-5X Plus. Just for a size reference, based on the reviews, it seems as though the One Size 2-12 fits everyone within that range beautifully.
Here's a review that pretty much sums up the pants:
"I don't know what kind of black magic sorcery they used to make these leggings so damn comfortable and NOT see through. So buttery soft, warm, and flattering. I'm a size 12 in jeans, athletic legs and some junk in the trunk, and I ordered the 0-12 size on a whim and they fit like a glove and are the perfect length for me at 5'7". Once I tried on my first pair and realized they're this amazing, I ordered a second pair because 'mom life' and I live in leggings. If you're debating wether or not to order these, do it."
Buy yours here. You're welcome.