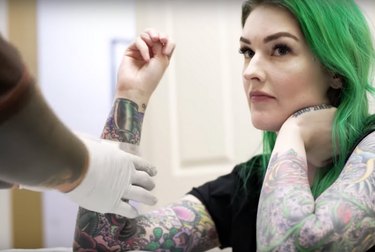 Some people are just really dedicated to not losing their car keys. Tesla Model 3 owner and software developer Amie DD modified her body so she could lock, unlock, and start her car using her arm.
The Tesla's key isn't a regular key. It's a key card with an RFID chip that looks like a hotel key. The benefit of the key card is to use it if you can't find the key fob or if your phone dies.
Amie DD recently posted a video to YouTube, which she titled "Tesla Model 3 hack," that shows her getting the RFID chip implanted into her arm. The video doesn't actually show her unlocking or starting the car using her arm, but it does show the procedure, including blood.
I'm interested to see how well it actually works, but will probably just stick to the traditional Tesla key if I ever happen to get a Tesla.