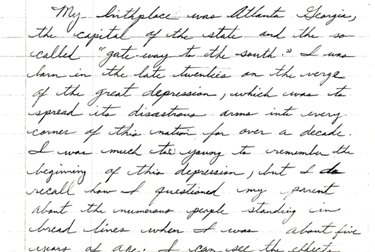 It's been 56 years since Martin Luther King Jr. gave his "I Have a Dream" speech. His words and message continue to resonate as we keep fighting for justice and equality.
Dr. King's legacy lives on, and apparently so does his handwriting. Harald Geisler, a typographer who specializes in handwriting fonts, is creating a font out of Martin Luther King Jr.'s handwriting.
Geisler has previously created fonts based on Albert Einstein and Sigmund Freud's handwriting, and now with the approval of the King Estate, he is crowdfunding on Kickstarter to bring this new font to your device.
The thought is for you to use the font in emails, text messages, school papers, school hand-outs, invitations, online art, for a tattoo, or for anything else that invoices text.
Here's an example of how to use handwriting fonts to create a paper: