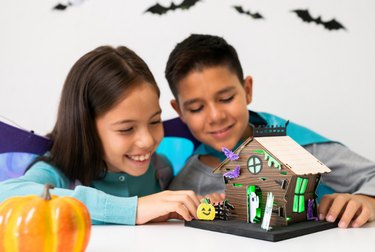 Halloween isn't just about the candy—although that's definitely a big part of it (shout out to Kit Kats). It's also about all the fun activities leading up to All Hallow's Eve that you and your kids partake in together.
KiwiCo (the most creative and adorable subscription box company for kids) offers some à la carte DIY Halloween projects your kids will love. Choose from several DIY costumes, including a dinosaur head, a cape, a light-up alien spaceship, butterfly wings, and a glowing unicorn horn. Plus, there's a super cool STEM light-up haunted house you can use as a decoration.
Here are a couple I built with my kids (OK fine, I built them by myself, but 2-year-olds and infants aren't great with their hands):
STEM Light-Up Haunted House
"Engineer a battery-powered haunted house with LEDs and vellum paper windows (for a ghoulish glowing effect). Customize some cool and creepy decorations (like cotton ball cobwebs and paper tombstones) to finish off your boo-tiful creation."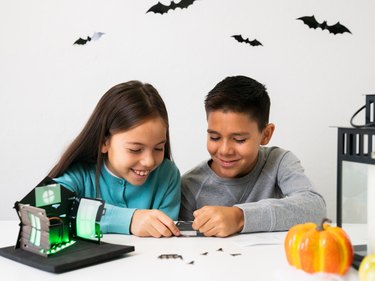 The haunted house is recommended for kids ages 9 to 16, but I can tell you from personal experience that it's also fun (and challenging) for 30-somethings. It requires a lot of concentration and patience, but the process and end result is worth it. Buy it here for $24.95.
Chomping Mechanical Dinosaur Costume
Build a big green dinosaur head by following easy step-by-step instructions and pre-cut supplies. You'll basically be a Pinterest parent, but without all the legwork.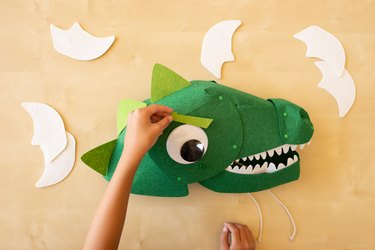 Everything you need comes in the box, you just need the patience and time to put it together. It also comes with felt claws, because nothing says "rawwwwr" like felt claws. Buy it here for $24.95.