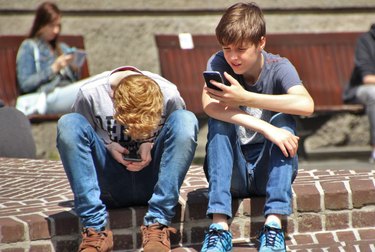 The age in which kids are owning smartphones keeps getting younger and younger. New research from Common Sense Media finds that by age 11, 53 percent of kids have their own smartphone, and by 12, 69 percent do.
By the end of middle school, 81 percent of kids will own a smartphone—which means by age 14, most kids will be proficient in social media and lack of eye contact.
The study also finds that one in five 8-year-olds have their own smartphone, an 11 percent increase from previous study in 2015. Owning a smartphone has increased substantially over the past four years among all ages, increasing from 24 percent of 8- to 12-year-olds in 2015 to 41 percent today, and from 67 percent to 84 percent among 13- to 18-year-olds.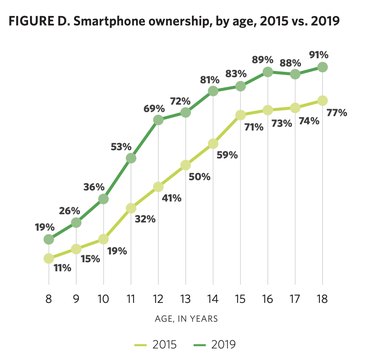 The goal of the study is to "provide reliable national data to help content creators, educators, policymakers, health providers, parents, and researchers understand the role of media in young people's lives, as they work to promote the health and well-being of tweens and teens."
The data is a good reminder to continue having an open dialogue with our kids about phone safety and time spent using it.