Facebook just launched a new payments service that works across every app it owns. Facebook Pay lets users to securely send money back and forth within Facebook and Messenger, and will soon roll out to Instagram and WhatsApp.
It's basically Mark Zuckerberg's version of Venmo.
To use the new payment tool, you can add your preferred payment method once to use on all participating apps, or it can be set up within each individual app. You can also view your payment history and manage payment methods all in one place.
"People already use payments across our apps to shop, donate to causes and send money to each other," the company wrote in a blog post. "Facebook Pay will make these transactions easier while continuing to ensure your payment information is secure and protected."
Here's how to set it up
Go to "Settings" > "Facebook Pay" on the Facebook app or website
Add a payment method
The next time you make a payment, use Facebook Pay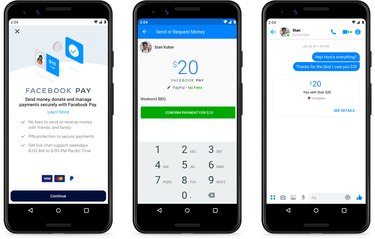 Most major credit cards can be used with Facebook Pay, as well as apps like PayPal and Stripe.