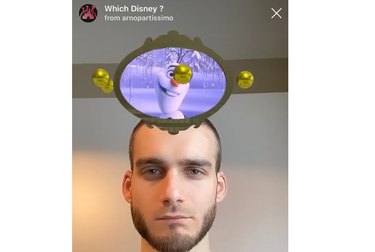 Apparently, the best time to release an Instagram Story filter is over the holidays, because people have nothing else to do but sit around and try to figure out what day it is.
The latest viral filter that people are obsessing over is called Which Disney? To use it, place your face (or anyone's face, even your dog's face) in the frame, and the filter will automatically shuffle through characters to reveal which Disney character you are. It can make your Disney dreams come true (my 2-year-old daughter got Olaf). Or not (I got Ursula).
There are two easy ways to try the filter for yourself.
When you come across a Story from a friend who used the Disney character generator, click the title of the filter in the top left corner. Click the "try it" bar that appears on the bottom of your screen. Hold the record button down to see your Disney character.
The other option is to go to the profile of the filter's creator, @arnopartissimo. Swipe left twice on his grid of photos to get to his filters section. Click the "Which Disney Character are You?" filter and "try it" in the bottom left corner.
Both options allow you to save the video to your camera so you can share it with the world.