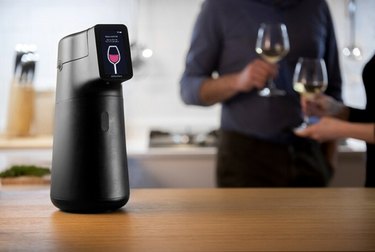 Having a glass of wine at the end of the day is sometimes a necessity. But if you don't finish the bottle within a few days to a week, the wine will go sour, and you'll have to dump it.
Albicchiere (Albi for short) is a smart wine preservation and dispenser that can keep a bottle of wine fresh for up to 6 months from the opening date and dispense it at the perfect temperature.
The temperature for each individual bottle of wine can be set depending on your preference, based on the recommendations by the winery, or by using the Albi app for tips. The app uses NFC technology, which automatically recognizes the wine and will bring it to the ideal serving temperature for that specific type of wine.
The device can be connected to Google Assistant, Amazon Alexa, and Apple HomeKit, allowing you to set you preferences and essentially order a glass of wine without getting up. Although, you'll have to get up to drink it—Albi doesn't deliver.
Albi is currently crowdfunding on Kickstarter, which you can back for around $229 and secure one for yourself.