Instagram has been adding new features to help keep people informed and connected during the coronavirus pandemic.
The social media platform's newest feature is called Co-Watching, and it allows friends on a video chat or group video chat to browse through feed posts one of the users on the chat has liked, saved, or that Instagram recommends.
It's another way for people to connect in this otherwise isolating time. So, now instead of just looking at each other's faces while chatting, you can watch funny videos of cats being pissed their owners haven't left the house or look at memes of people being ridiculously creative while stuck at home. Laughing together is way better than laughing alone.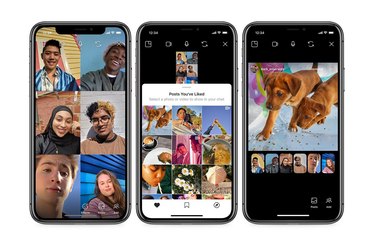 Instagram also announced these additional updates:
Including more educational resources in Instagram Search
Adding stickers to promote accurate information
Removing COVID-19 accounts from recommendations, unless posted by a credible health organization
Rolling out the donation sticker in more countries and helping people find relevant nonprofits to support
Creating a shared story to help those practicing social distancing connect with others, using a "Stay Home" sticker