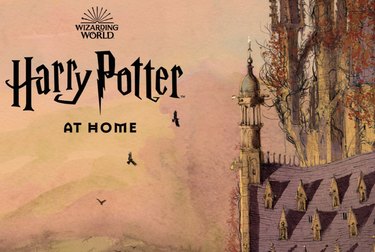 J.K. Rowling is making home life a little less boring and a lot more magical. The Harry Potter author just launched an online Potter hub designed to give kids something to do while they're safe at home during the coronavirus crisis.
Harry Potter at Home brings Hogwarts to you. It's a place where you and your kids can find craft videos, articles, quizzes, puzzles, and lots of other educational and fun activities for first-time readers, as well as those who are familiar with the wizarding world. The hub also offers free Audible access to "Harry Potter and the Philosopher's Stone," the first book in the series.
"For over twenty years now, Hogwarts has been an escape for all – for readers and fans, young and old," Rowling and her team wrote on the site. "During the strange times we now find ourselves in, we want to welcome you back to Hogwarts, where you will find a friendly retreat for you, your family and those you are caring for."
In addition to all the fun activities, teachers also have copyright permission with free access to all seven Harry Potter books to read aloud to their students in virtual read-a-long sessions on their schools' secure networks or closed educational platforms. The open license for teachers is available now through the end of the school year.
Check out the Harry Potter at Home hub here.