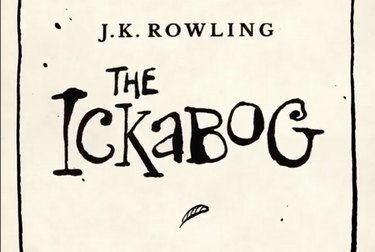 J.K. Rowling wrote a new book for kids that has absolutely nothing to do with Harry Potter and magic. It's called "The Ickabog," and the first few chapters are available to read for free on her website, with more being added daily.
"The Ickabog" has been collecting dust in Rowling's attic for over a decade. It's a story she used to read to her young kids as she was writing it, and it was only a few weeks ago when she thought to dust it off and finish it.
Every weekday between May 26th and July 10th, a chapter (or two or three) will be posted on the book's website.
"'The Ickabog' is a story about truth and the abuse of power," Rowling wrote in a blog post. "To forestall one obvious question: the idea came to me well over a decade ago, so it isn't intended to be read as a response to anything that's happening in the world right now. The themes are timeless and could apply to any era or any country."
The book was written to be read aloud, according to Rowling, but it's suitable for 7 to 9-year-olds to read to themselves. And of course, kids and grown ups of all ages will enjoy the story.
In addition to reading along with the book as chapters are released, kids (and adults) can also participate in illustration competitions for each chapter. Suggestions will be posted on the website, but Rowling wants imaginations to run wild.
When the book is published in November, all author royalties will be donated to those impacted by COVID-19. More info can be found here.