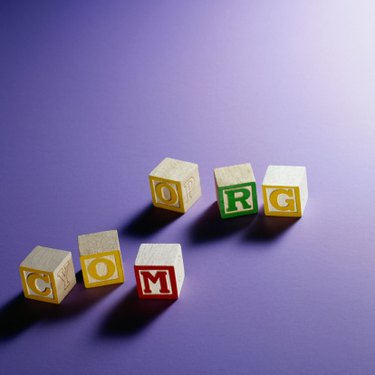 Originally, website domain names ending in ".org" were intended for nonprofit organizations, while .com was the extension for commercial businesses and .net was reserved for network-related sites. Now the evolution of the Web has increased public accessibility and range of use for domain name extensions, and creating a .org website is possible for any business or individual able to pay the nominal fees for registration, hosting and design. Applicants for a new website name must purchase the domain name from a designated domain registry company, then choose hosting and design services based on individual needs and resources.
Step 1
Decide on the name of your website (called the "domain name"), and check to see if that domain name is available. There are numerous companies online called domain name registrars that own domain names and will test name availability. Not all registrars offer .org domain name extensions; for a list of accredited registrars with .org domain extensions, visit the Public Interest Registry's list at http://www.pir.org/get/registrars. (See Reference 1, Reference 3)
Step 2
Follow the instructions for purchasing and setting up the website domain specified by the particular domain registrar used. In addition to testing the availability of the website name, the registrar may also offer domain name suggestions based on the website's purpose, as well as hosting the site itself.
Step 3
Choose a website hosting service to maintain the site's online presence, if the domain name registrar is not used for this purpose. There are hundreds of reputable hosting services, and the best way to find one is to determine the needs of the website. It is important to take the following criteria into consideration: cost, technical support and reliability, and capability for handling website size and traffic. (See Reference 2)
Step 4
Hire a web designer or company to create the pages of the website. It is important to have a professional design the website due to the vast knowledge required for search engine optimization, quality of content, usability and aesthetic appeal.
Tip
Due to the vast amount of web design and hosting services, sometimes the best way to decide on a high-quality business is to ask for referrals from friends or colleagues. Accreditation of domain name registrars is conducted by the Internet Corporation for Assigned Name and Numbers (ICANN).
Warning
Before registering the domain name, be sure to check whether its similarity to other domain names could hurt your website or violate another organization's trademark. Are there disreputable businesses that are one typo away from the proposed website? Will the website name be so similar to another company that its legal department is knocking on your door, or will potential site visitors be navigated to the competition?