While many of us have shifted out workouts to makeshift home gyms during the pandemic, the right playlist can make or break a workout.
Spotify is making it easier to play the music you want to hear with a new tool called Soundtrack Your Workout, a quiz-based playlist builder.
To get your playlist, you'll need to answer a few questions about your listening taste. Select the length (playlists can be as long as two hours), intensity level, and mood. Choose the type of workout you're doing (cardio, yoga, lifting, walking etc.) and let Spotify know if you're working out alone or with a friend. Then decide on the vibe of the workout—whether you need motivation, feel like dancing, or want to keep things calm and zen.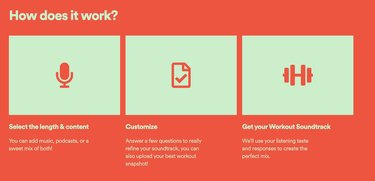 You can add music, podcasts, or a mix of both—whatever motivates you to get through your workout. Plus, you can choose to block explicit content. Spotify will then use your preferences to create a mix for you.
Spotify already has workout playlist options, but now you can choose them based on the type of workout you're doing.