M3U files store music playlists that work with most media player programs. Unlike the playlists built into iTunes, Windows Media Player and other media players, M3U files work independently of the program used to create them. ITunes 12 hides the ability to create M3U playlists behind a few menus, but for the most part, the process uses the same steps as building a regular iTunes playlist. Windows Media Player 12 can also save M3U files instead the program's default format, WPL.
Warning
M3U files won't work if you move them to another computer, as they don't contain the music files themselves. Even if you bring the music files along, the M3U won't correctly point to the music unless you place it in the same directory on both computers.
ITunes
Step 1: Create a Playlist
Open the Playlists tab in the Music section of iTunes. Click the + icon beneath the list of playlists and choose New Playlist.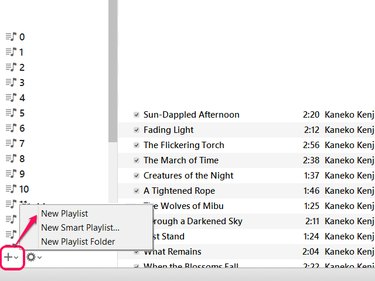 Tip
Optionally, choose New Smart Playlist instead to build a playlist using filter criteria. The M3U file created from a Smart Playlist won't update automatically, however, unlike the Smart Playlist in iTunes itself.
Step 2: Add Songs
Click Add To to edit the new playlist. Drag music from your library onto the playlist sidebar to add songs. Use the search bar to quickly find the songs you want to add. When you're finished, click Done.
Tip
The Column Browser also helps find songs by sorting by album, artist and genre. Open it by pressing Ctrl-Shift-B.
Step 3: Export the Playlist
Open the File menu -- press Alt-F if you don't see the menu bar -- point to Library and choose Export Playlist.
Step 4: Select the File Type and Save
Choose a location to save the M3U file and name it. Before you click Save, set the Save as Type to M3U Files.
Tip
Changes made to your playlist in iTunes won't affect the M3U file after you create it. If you update your playlist in the future, choose Export Playlist again.
Windows Media Player
Step 1: Build a Playlist
Drag songs from your library to the sidebar in Windows Media Player to create a new playlist.
Step 2: Save the Playlist
Click the List Options button, which has an icon of a computer window, and choose Save List As.
Tip
If you also want to save the playlist for use or later editing in Windows Media Player, enter a name in place of "Unsaved List" and click Save List.
Step 3: Select the File Type and Save
Set the Save as Type to M3U Playlist, and then pick a location and name for the file. Click Save to finish.