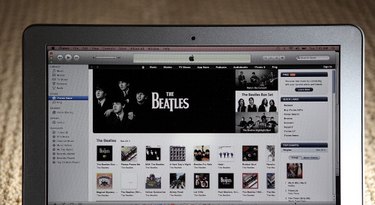 Apple's free iTunes application enables you to play media files and manage your iPod, iPhone and iPad. After you accumulate audio and video files in your iTunes library, you can sort them into playlists. For example, you arrange videos by the date you added them to the iTunes library, or you make a playlist of road trip songs. You can create an M3U file, which is a text file of a playlist or library that retains the way you have ordered your files. Use the M3U file to play your media files on a portable device or with another application.
Step 1
Launch iTunes on your computer.
Step 2
Click a category such as "Music" or "TV Shows" under "Library" in the left pane of the iTunes window, or click a playlist under "Playlists."
Step 3
Click "File" from the iTunes menu.
Step 5
Click "Export Playlist." A dialog box opens.
Step 6
Click a folder where you want to create an M3U file.
Step 7
Click the "Format" drop-down menu, and then click "M3U." Click "Save" to create an M3U file.