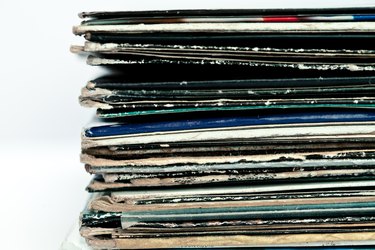 Set up continuous play in iTunes and then sit back and let the program play your entire catalog. Turn on the Shuffle feature in iTunes to enable continuous playback. Although Apple has slightly changed how you enable shuffle in iTunes 12, it remains similar to iTunes 11 and is still straightforward to set up.
Step 1
Click "Controls" on the main menu, highlight "Shuffle" and verify that there is a check mark next to "Songs." You must enable Songs shuffling in order to play continuously from your entire music library, rather than from one album or category.
If you're using iTunes 11, click "Controls," highlight "Shuffle" and verify there is a check mark next to "By songs."
Step 2
Click the "My Music" tab, click "Albums" in the top-right corner and select "Songs" to sort your library by songs. The My Music tab is located beneath the main window at the top of the screen in iTunes 12, where the song name and time are displayed.
Step 3
Double-click any song to start playing. Click a column heading to sort songs by Name, Time, Artist, Album, Genre or Rating.
Step 4
Click the "Shuffle" icon (resembling crossed arrows) located to the left of the song name at the top of the iTunes window.