Not all kitchen appliances are created equal. Thermomix TM6 is an appliance that can help you cook a meal using one or several of its 22 different functions, but before any actual cooking starts, the device will order your groceries for you.
Included with the TM6 is a stainless steel bowl, a mixing knife, a precision heating element, and an integrated scale—and they're all dishwasher safe. The device comes equipped with a screen that takes you step-by-step through cooking a meal, and it automatically sets the timer and temperature. It also allows you to bookmark recipes, organize them by category, and plan your weekly meals.
The integration pairs recipes with pre-matched ingredients, which means you don't have to spend time searching for ingredients through a third-party app or in a store.
Just choose your favorite participating local grocery store and delivery service (Instacart and Amazon Fresh are among the options) and Shoppable Recipes will generate your shopping list once you choose a recipe. You can manually remove any ingredients you already have before placing an order, and any common pantry items (like water, salt, pepper, oil, etc.) are automatically removed. Also, you can also add any other items you need from the store to make the most out of the delivery.
Recipes include breakfasts, lunches, dinners, appetizers, snacks, desserts, smoothies, juices, cocktails, mocktails, and recipes for kids.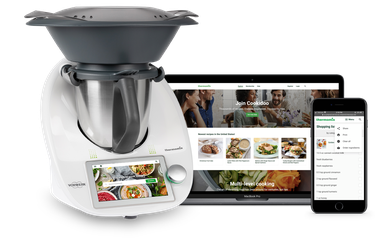 Once you sign up for an account on Cookidoo, the app that syncs with the TM6, you can browse through over 1,700 recipes in the U.S, but if that isn't enough, you can change your settings to gain access to recipes from other countries. The subscription fee for the app is $39 per year, with the first 6 months free.
The TM6 is perfect for beginners who need a lot of guidance in the kitchen, for amateur chefs who want to make their cooking lives easier, as well as for professional chefs. In fact, many well known chefs use it in their kitchens.
Buy the TM6 here for $1,499. Included in the price is a 30 minute demo on how it works and to get it up and running.