There's a new Apple store opening in Singapore, and it's different from every other Apple store—this one floats.
The new store is located in front of the popular Marina Bay Sands Hotel, and it sits directly on the water. The floating Apple store is an all-glass dome that offers uninterrupted 360-degree panoramic views of the city.
Apple unveiled some interior photos of the store in a blog post, and it's just as cool as it sounds. The sphere shape of the building was inspired by the Pantheon in Rome.
A video wall serves as the center stage for Today at Apple sessions featuring Singapore's artists, musicians, and creators.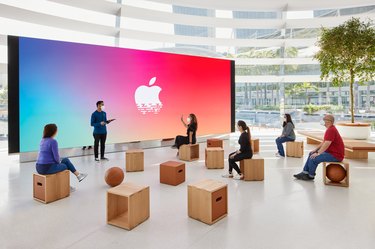 "We couldn't be more excited to open the breathtaking Apple Marina Bay Sands in Singapore, building on our commitment to this special place that began more than 40 years ago," said Deirdre O'Brien, Apple's senior vice president of Retail + People. "Our passionate and talented team is ready to welcome this community to our new store and deliver the care and support that our customers around the world love."
The store opens on September 10th. Employees and visitors will be required to wear a mask, have their temperature taken, and social distance.