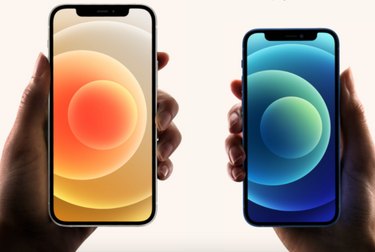 Smack dab in the middle of Amazon Prime Day, Apple unveiled the latest and greatest iPhone during its second big hardware event of the year. Not just one iPhone though — two versions of the same phone.
Perhaps the biggest news surrounding the iPhone 12 is that it's the first iPhone to support 5G. Yay for a super fast cellular network.
The 12 has a 6.1-inch OLED display, and it's the same size as the iPhone 11, but due to its smoothed out, flat edges, the iPhone 12's overall size has been reduced. It also comes equipped with A14 Bionic, the fastest chip in a smartphone, a Ceramic Shield with four times better drop performance, and Night mode on every camera.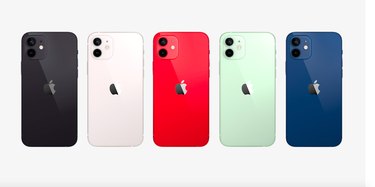 But if the regular ol' 12 is too big for you, Apple introduced an even smaller phone: the iPhone 12 Mini. Internally, the Mini is the exact same phone but with a 5.4-inch display. For reference, it's a tad smaller than the SE.
Available in black, white, blue, red, and green, the iPhone 12 starts at $799 and the iPhone 12 Mini starts at $699 — both with a ship date of Nov. 13.
In addition, two bigger and pricier phones are also coming soon: iPhone 12 Pro and iPhone Pro Max. The iPhone 12 Pro starts at $999 and the iPhone Pro Max starts at $1099, both starting at 128GB. Shipments begin on Oct. 23.