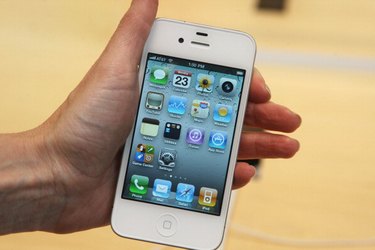 Use the Google Maps app pre-installed on your iPhone to search for locations, and view maps, satellite overlays and traffic, and get directions to specific locations. If the iPhone's screen turns off while using Google Maps, it means the Auto-Lock setting has been configured to turn off the screen after a set period of inactivity to save energy. You can change the setting to keep the screen from automatically turning off.
Step 1
Press the "Home" button on your iPhone.
Step 2
Tap "Settings" and then tap "General."
Step 3
Tap "Auto-Lock." The Auto-Lock settings screen appears with options to turn the iPhone's screen off after various periods of inactivity, such as after 1 minute or 3 minutes.
Step 4
Tap "Never." The iPhone screen is now set to stay on until you manually press the "Sleep/Wake" button along the upper-right edge of the device.
Step 5
Press the "Home" button and then tap "Maps" to return to Google Maps. The iPhone will not turn off unless you press the "Sleep/Wake" button.