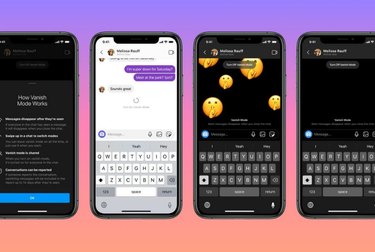 Facebook just introduced Vanish Mode, a new feature that makes direct messages, photos, voice messages, emojis, and stickers disappear within Messenger and Instagram.
After a message is sent, and once the recipient has seen the message and the chat box is closed, the messages will automatically disappear forever.
The purpose of the feature is for users to "be in the moment, and share with close friends and family without worrying about your chats sticking around," according to a Facebook press release.
Facebook says Vanish Mode works best with GIFS, stickers, memes, and reactions that make sense in the context of your messaging, but might be annoying to look at later.
To turn the feature on, all you need to do is open a chat thread and swipe up on your phone. To turn it off, swipe up again and things will go back to normal. Both parties in the chat will have to approve of the feature for it to be turned on.