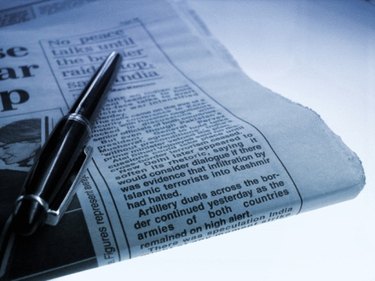 Facebook is increasingly used as a news source by its millions of users. Facebook friends and fans receive and share news of interest through status updates and links to outside articles. Sharing articles on Facebook is easy. You can share an article by posting it to your wall for your friends or fans to see, or you can send it to just a few friends by direct message.
Wall Post
Step 1
Log in to Facebook with your email address and password.
Step 2
Click "Link," located to the right of "Share," near the top of your homepage.
Step 3
Copy the Web address of the article you want to share, and paste it in the box. Click "Attach."
Step 4
Add a message to the post if you wish, then click "Share." The article will appear on your wall and in the news feeds of your friends or fans.
Posting Directly from Another Site
Step 1
Locate the share button near the article. This button may appear as "Like," "Recommend" or "Share on Facebook." Once you click it, a new box will open.
Step 2
Log in to Facebook if you have not already done so.
Step 3
Click "Post to Profile," then "Post," to share the article on your wall.
Share Using Direct Message
Step 1
Click "Messages" from the left-hand column of Facebook. Select "+New Message" near the top of the page.
Step 2
Type the name of the person to whom you are sending the article.
Step 3
Add your message, and paste the link.