Facebook is an enjoyable and significant part of many people's lives. When you're trying to send someone a link to your Timeline, Page or to a specific post, finding the correct link is not always obvious, but once you know where to look, it's not time consuming to locate. The link to your Timeline is available through the Settings section, and the link to a specific post is available in that post. The link to your public business Page displays in the browser's address bar when you are on the Page.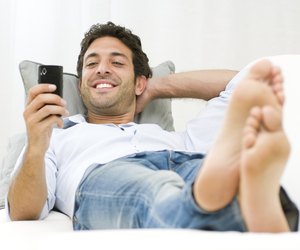 credit: Ridofranz/iStock/Getty Images
Timeline Link
To send a Timeline link, click on the arrow at the top of the Facebook screen and then click "Settings." Look for "Username" for the link to your Timeline. Copy that link and paste it into an email or message to send it.
Specific Post Link
To link to a specific post on your Timeline, view that post and locate the date for it. Right-click the date and select the option to copy the link. Then paste that link in an email or message to send it. Note that some people may not be able to view the post based on your privacy settings for your Timeline or for that specific post.
Business Page
Facebook offers Pages to businesses and organizations. Because Pages are open to public view, just copy the URL at the top of your business page and send it to potential clients or other interested parties.