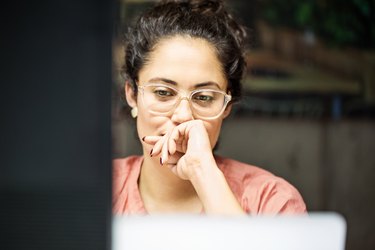 Although Facebook offers search capabilities that allow anyone with an account to find a friend by typing in that person's name, there are times when you may want to send someone your Facebook profile link so they can access it directly. It's easy to find the Facebook URL for your profile page and share it, but those you share it with may not be able to see the content if they don't have their own Facebook accounts. You can also share links to additional pages you create on Facebook, provided they've been published.
Find Your Facebook Profile Link
If you're running the Facebook app on a smart phone, you can access the link to your profile by going to your profile page and selecting the "More" button. Choose "Copy Link to Profile" from the menu. You can now go to email or other social media apps and paste the link into any text field.
When running Facebook from a browser on a laptop or desktop computer, go to your Newsfeed and press the downward arrow at the far right of the search bar at the top of the Facebook page. Choose "Settings" from the menu. A link to your Facebook profile is shown for the Username setting. Alternatively, you can use your browser's Copy function to copy your Facebook url directly from the browser address bar. This is the best approach to use when you want to share a Facebook page link for other pages you've created, including business pages.
Finding a Facebook Post Link
You can also share links to individual posts you've shared on Facebook. Go to the post and click on the date and time that are shown right below your name at the top of the post. The post will be displayed on its own. You can share the url of this view from the browser address bar by using the browser Copy function.
Sharing Links and Privacy Settings
If you want to share a Facebook profile link or page link with people who aren't logged into Facebook, you'll need to change the audience to Public in your privacy settings. Otherwise, Facebook will display a message saying the page is unavailable. Even if the content is Public, the viewer will see a preview and then will be asked to log in to Facebook. If you try to share a link to a post with someone who's not logged in to Facebook, a Facebook login page will be displayed and the recipient will need to log in or register for a Facebook account to see the post.