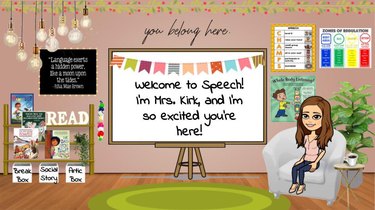 Teachers are doing virtually everything they can to help kids stay engaged and interested in school subjects while distance learning—which, as you probably know, is not an easy task.
Many educators have turned to creating Bitmoji classrooms to help give students a small sense of normalcy in this weird time. You know Bitmoji, right? It's that expressive cartoon avatar you can create to look like you that replaces regular emoji while texting. Bitmoji classrooms insert your avatar into a virtual classroom that you design, which can be entertaining, interactive, and engaging. Students can even click through assignments and websites within the classroom.
While a Bitmoji classroom doesn't offer the same experience as students get in person, it's certainly a small gesture that can go a long way.
Here's how to create a Bitmoji classroom
First you need to create your Bitmoji, which you can do by using the Bitmoji app on your phone (iOS and Android). Once created, head over to your computer and add the Bitmoji extension to your Chrome browser. This makes it easy to insert your Bitmoji into your classroom.
You're ready to create your virtual classroom. Go to Google Slides and start a new presentation by clicking the Blank slide. To add images of a wall and floor, click Background>Choose Image>Google Image Search. Or you can upload your own images if you have them.
Now it's time to get creative. Go to Insert>Image>Search the Web to add items into your classroom, like a desk, dry erase board, chairs, supplies, books, art, etc. It works best if you search for transparent images that don't have a background, like "transparent chair" or "transparent dry erase board." You can make the classroom interactive by uploading real photos of your students' artwork, uploading images of textbooks with links, and linking the whiteboard to a newsletter.
When your classroom is ready to go, click the Bitmoji extension button in your toolbar (the smiley face inside a green rectangle) and select your Bitmoji.
Tip: You may want to save your completed background image as one file, then re-upload the image as the background so the page is easier for students to navigate.
Here's a look at some fun Bitomoji classrooms