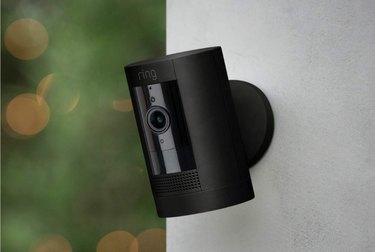 So, you're looking for a home security camera. You might be feeling overwhelmed with all the options. We get it. But let's take a deep breath together, because finding the right security camera from your home doesn't have to be scary. In fact, it can be pretty easy when you narrow things down.
Luckily for us, Amazon has narrowed down the options based on best sellers. We've compiled the top 10 right here to help you decide which camera has the features that are important to you.
Here are Amazon's top 10 best sellers:
1. Ring Video Doorbell - $99.99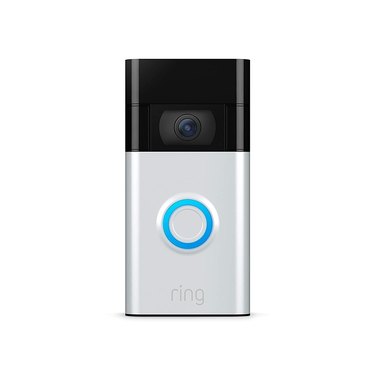 This version of Ring's Video Doorbell was released in 2020, and it offers improved motion detection, crisper night vision, 1080p HD video, a rechargeable battery, mobile notifications, easy set up, and it works with Alexa.
The indoor Wyze Cam comes with night vision, 2-way audio, 1080p HD, and it works with Alexa and Google Assistant. The camera has over 73,000 5-star ratings, and according to reviews, it's the best camera for the price. Although, it might be worth looking into the reported privacy issues.
A wireless, weather-resistant outdoor HD security camera with motion detection. The device can stay charged up to two years on two included AA lithium batteries. The camera sends motion detection alerts to your phone with the option to customize motion zones. Two-way audio lets your see, hear, and speak to visitors in real-time.
An indoor smart security camera with 1080p HD video, night vision, motion detection, 2-way audio, and it works with Alexa. Alerts can be sent to your phone when motion is detected, and you can customize motion detection zones.
A pan, tilt, and zoom feature allows you to control the indoor Wyze Cam Pan remotely using the app. That way you can see every angle of the room. It features 1080p HD video, night vision, 2-way audio, and it works with Alexa and Google Assistant. Amazon reviewer Nicholas Parker wrote, "This little camera is VERY impressive. I currently own a Nest IQ indoor camera and have owned a couple Foscam indoor cameras in the past. This Wyze camera produces excellent picture quality and has a very easy to use app. The fact that you get 14 days of clips storage for free just blows the Nest cam out of the water."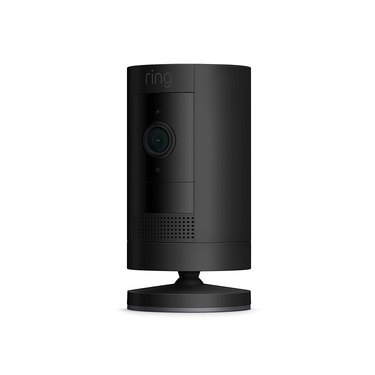 Ring's battery-powered cameras are all relatively easy to set up, and the Stick Up Cam is no exception. This cam has versatile mounting options for both indoors and outdoors, and it offers a live view so you can check on your home anytime. If you already have a Ring doorbell, this is a nice addition and works seamlessly with your other devices on the app.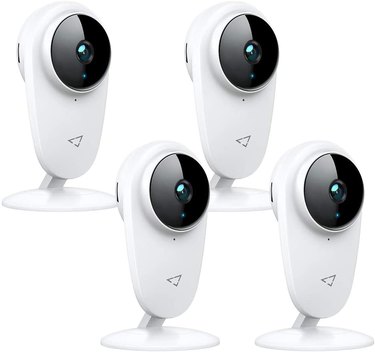 This 4-piece security camera set is perfect if you want multiple cameras throughout your home. It features 1080p HD video with night vision, instant motion detection, and 2-way audio. According to one Amazon reviewer, "A $30 camera, you would think, 'You get what you pay for,' right? In the case of this particular camera, the answer is heck no!! This camera is amazing!!! The picture is so clear during the day and at night."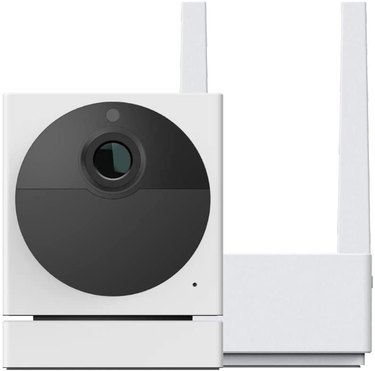 This Wyze indoor/outdoor starter bundle includes a base station and one camera. The camera features 1080p HD video, 2-way audio, night vision, and it works with Alexa and Google Assistant. You can also purchase a two-camera kit, three-camera kit, or a four-camera kit.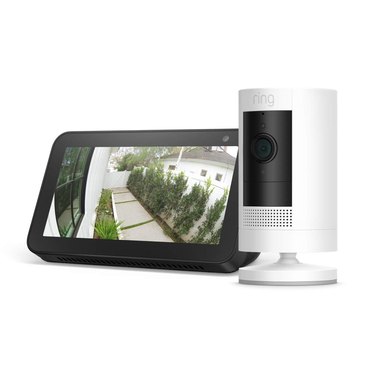 This battery-powered Ring Stick Up cam is the same one listed above, only this one comes with an Echo Show 5 so you can watch video footage directly from the Echo's screen.
A home security camera that's also marketed as a baby monitor. The YI features night vision, 2-way audio, and motion detection. Amazon reviewer Mike is a self-professed tech guy, and he loves the camera. He wrote, "Let me tell you I'm super impressed with the picture quality of these cameras. Set up is quick and easy. When I purchased them I had no idea they had audio as well. The audio quality is incredible, plus it's a two way speaker."