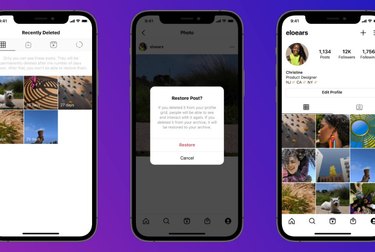 There are lots of reasons why you'd delete an Instagram post. Maybe you chose the wrong filter, misspelled a word, or posted something in haste. Or maybe it was just an accident. Whatever the reason, you can now change your mind.
Instagram launched a new feature that lets you recover photos, videos, reels, IGTV videos, and stories, that you've deleted. Content that has been deleted within 30 days will be stored in a recently deleted section, which is only viewable to you. The posts will be automatically deleted if you've left them alone for 30 days. Deleted stories, however, will only stay in the recently deleted section for 24 hours before they're removed permanently. To access the folder, go to Settings > Account > Recently Deleted.
Instagram says you'll have to verify your identity by text or email before you're able to restore a post or remove it permanently. This is an addition safeguard against hackers who target Instagram accounts and delete posts.