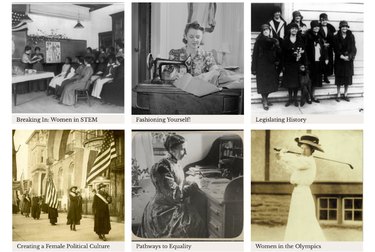 March is Women's History month, a time to celebrate and study the vital role, contributions, and achievements of women in American history. (Every day should be Women's History day, in our opinion.)
The National Women's History Museum in Alexandria, Virginia offers some really cool online exhibits where students (or anyone) can explore and learn about trailblazing women of the past and present.
Here are some exhibits to check out
​Standing up for Change: "​This exhibit spotlights the rich and vibrant voices of black women leaders in the movement and highlights their significant roles and contributions."
​The Women of NASA:​ "Women have played an essential role in the functions of NASA for almost a century. Learn about some of those women here."
​Breaking In: Women in STEM:​ "Explore the historic reasons women are underrepresented in science, technology, engineering, and mathematics today."
​Women in the Olympics:​ "Explore the history of women in the olympics with this interactive timeline."
​New Beginnings​: "Explore the ways that immigrant women have transformed American socially, politically, and economically."
Visit the Women's History site for more virtual exhibits and to learn more about Women's History month.